Paterson Museum
From its inception, The Paterson Museum has stressed the educational aspects of its interpretive exhibits. A major strength of the Museum lies in its varied collections, including local archaeology, history, and mineralogy. Paterson has been the birthplace or springboard of many innovators and inventors such as John Holland -"Father of the modern submarine," Sam Colt - who perfected the repeating cylinder revolver, and John Ryle - "Father of the silk industry."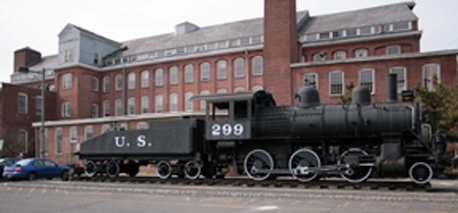 Tuesday through Friday: 10:00 AM - 4:00 PM
Saturday and Sunday: 12:30 PM - 4:30 PM
Closed Mondays and Holidays
The Museum offers guided tours for School and community groups by appointment. Please call for further information about program details or to make a group tour reservation.
Suggested donation of $2.00 for adults; Children under 18 free.
History of The Paterson Museum
The Paterson Museum was organized in 1925 by the City of Paterson Library's Board of Trustees. The Museum began it's operations in the assembly room of the Danforth Public Library with a display of natural history items that had been donated to the library by local residents.
In 1927, the collections were moved to the carriage house of former Paterson mayor and philanthropist Nathan Barnert. The house was located on Summer Street next to the Danforth Library.
Over the years, the Museum's collections grew in size and scope, and additional space was needed. This need was met in 1982 when the Museum was relocated into the restored Thomas Rogers Locomotive and Machine Shop (c. 1873) at the corner of Market Street and Spruce Street, in the heart of the Great Falls National Historic Landmark District. The nationally famous Great Falls of the Passaic, provides a unique backdrop for our exhibits.
For further information about The Paterson Museum and details about the museum's collections, archives, and services visit the mseum's additional site by clicking on the link below:
Contact Us
2 Market St
Paterson, NJ 07505
Phone: (973) 321-1260

Hours:

Tuesday - Friday 10 AM - 4 PM
Saturday - Sunday 12:30 - 4:30 PM
Closed Holidays & Mondays
More Information
Find content and services related to this page.