Historic District Cultural Center Guided Tours
Phone:




973-279-9587

Fax:




973-279-0587
Guided tours of the Great Falls and its surrounding historic district are available for groups of ten or more persons by reservation.
We welcome you to call the Center and speak with a staff person to arrange a reservation for your group. In addition to guided walking tours of the area, a selection of videos on Paterson may also be viewed. Tours of the Great Falls can be combined with a visit to the Paterson Museum, Lambert Castle, the Hydroelectric Station, and the American Labor Museum depending on the your group's interest. Our staff is able to assist you with these arrangements.
Tour services are arranged for Monday - Friday between the hours of 9:30 - 11:30 AM and 1:00 - 3:00 PM. Other times may be possible depending on staff availability. Minimum requirement for any reserved group service is 10 persons. For groups of 10 persons or less, self-guided walking tour information is available and recommended.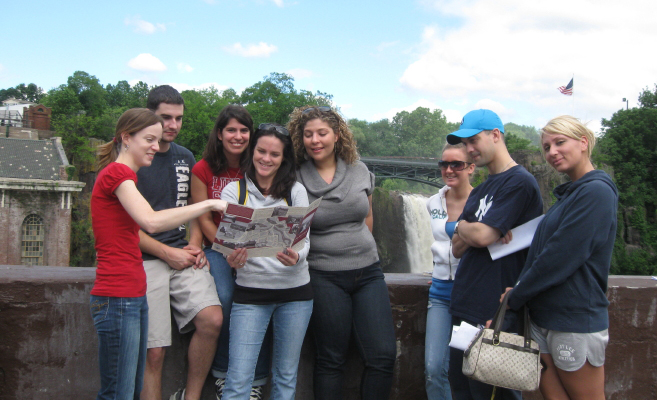 Geology students from William Paterson University on field trip with Dr. Jennifer Callonen.
Guided walking tours are popular and we urge you to make reservations well in advance, especially if you are considering a springtime tour.
Brochure:
TOUR
INFORMATION AND EDUCATIONAL SERVICES
(PDF)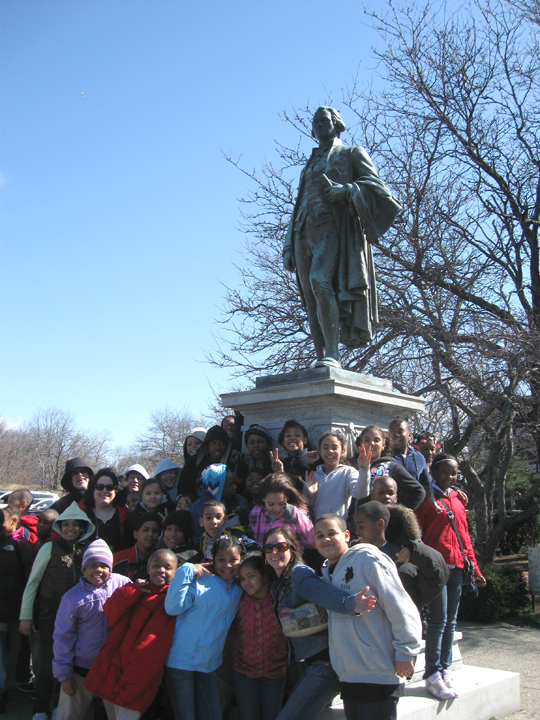 Students from Paterson's School No. 13 posing with statue of Alexander Hamilton on a tour to the Great Falls.
Contact Information
If you have any questions regarding this service, please contact Robert Veronelli.