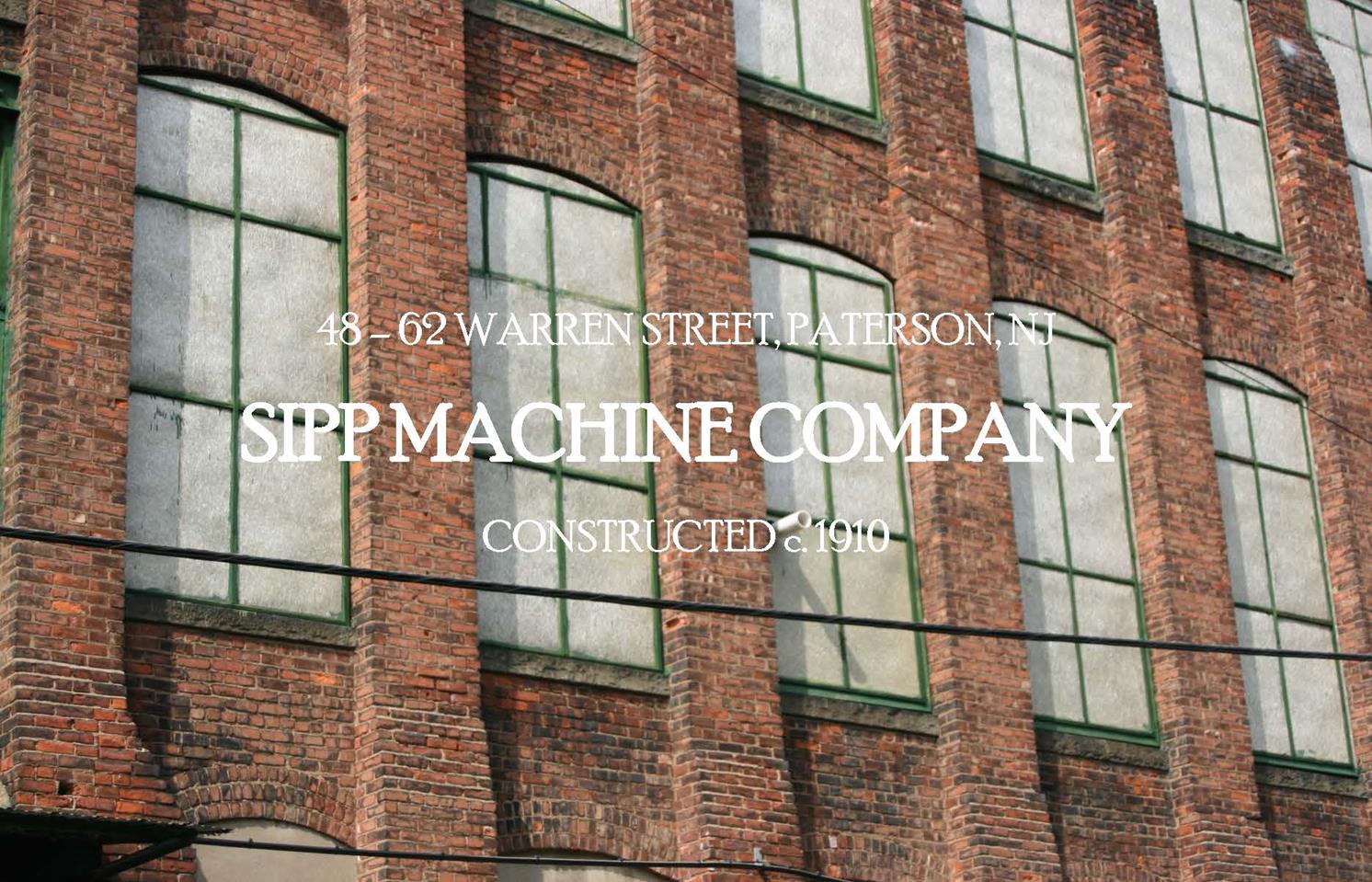 History
The Sipp Machine Company was established in the late 19th century by Grant Sipp, a Paterson machinist of whom very little is currently known. In the late 1890s, Sipp advertised for sale kits and castings for small steam and internal combustion engines. He also took out a patent for a silk winding machine in 1898 and a patent for a steam-powered air pump and compressor in 1900, advertising its simplicity of use in carriage houses. By the mid-1900s, Sipp had apparently focused his business on silk textile machinery; between 1908 and 1927, he took out more than 20 patents, most of them related to improvements in winding machines, reeling engines, and warping and beaming machines used to prepare and wind silk thread for weaving. Sipp regularly advertised these machines in silk trade journals promoting improvements that increased their speed and efficiency of operation. In the late 1920s, Sipp began adapting the machinery to synthetic fibres, including rayon. The works for building Sipp machinery was constructed after 1899 and had reached its present-day extent along the Keen Street and Erie Railroad frontages by 1915. The Warren Street frontage was developed in the late 1910s or 1920s. Prior to 1934, the Sipp Machine Company merged with the Eastwood Machine Company, another prominent Paterson manufacturer of silk machinery, established by Benjamin Eastwood in 1879 with its machine works located at 302-08 Straight Street. The firm continued in operation under the Sipp-Eastwood Corporation name at least until the early 1950s.
Statement of Significance
The Sipp Machine Company illustrates the continued traditions of machine building and metal works in Paterson that began with the S.U.M. in the early 19th century and was perpetuated well into the 20th century by highly skilled machinists such as Grant Sipp. The company's history also illustrates the close relationship of the machine-building industry to the textile industry. The patents taken out by Sipp were innovative in meeting the needs of the silk industry for speedier and more efficient warping and winding machines, which were critical to producing quality broad silks. Architecturally, the Sipp Machine Works is a significant and complete representative example of an early 20th century machine works complete with machine shops, pattern shops, boiler house and office.
References
Hyde, E. B. Atlas of Passaic County, New Jersey, 1877.
Robinson, E. Atlas of the City of Paterson, New Jersey, 1884.
Robinson, E. Atlas of the City of Paterson and Haledon, New Jersey, 1899.
Mueller, A. H. Atlas of the City of Paterson, New Jersey, 1915.
Sanborn Map Company Insurance Maps of Paterson, New Jersey, 1915.
Sanborn Map Company Insurance Maps of Paterson, New Jersey, 1931.
"Small Steam Engines and Boilers." Machinery (July 1898), p. 366.
"Patent for Sale." The Horseless Age (March 6, 1901), p.35. 1898
"Grant Sipp." Google Patents [Accessed Sept. 2012] 1901.
Davison Publishing Co. Davison's Textile Catalogues 1934
"The Sipp Horizontal Warper." American Silk Journal. Sept. 1924.