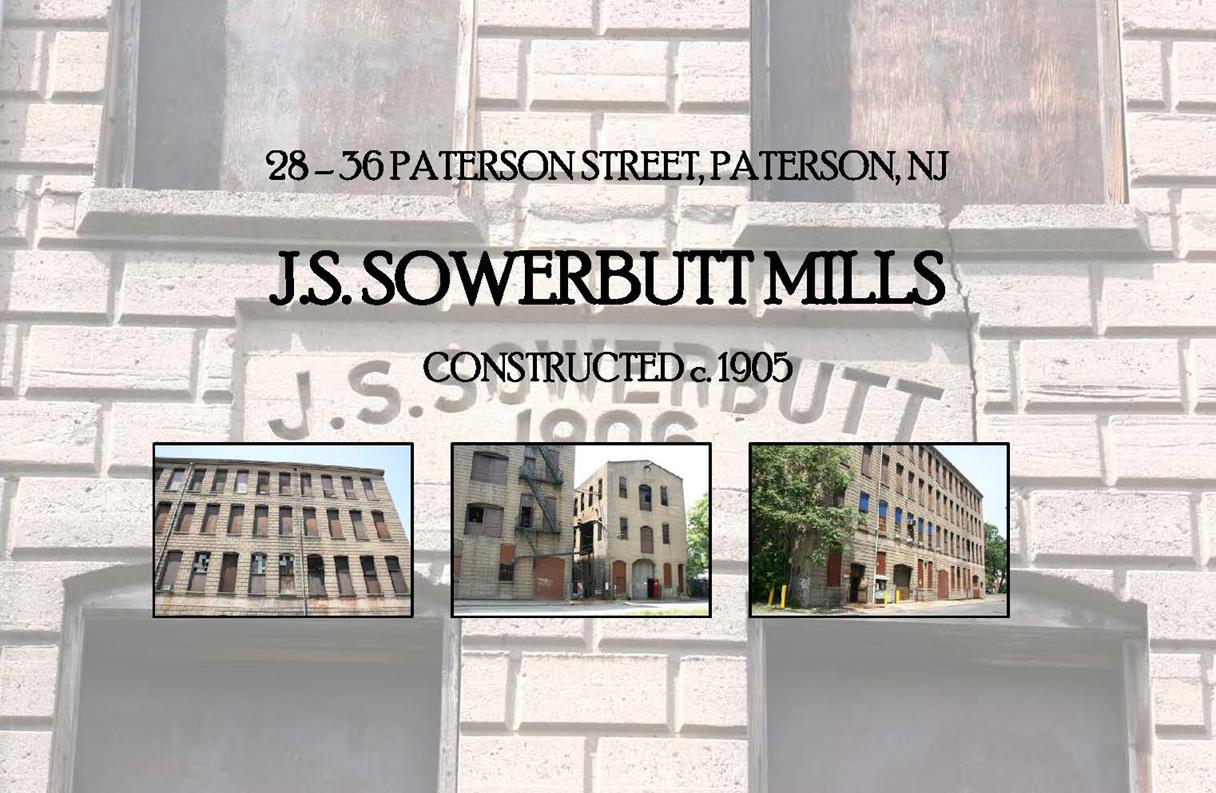 History
James S. Sowerbutt established a wagon works near the corner of Paterson and Harrison Streets in the early 1890s, possibly expanding on an earlier blacksmith and woodshop. In 1895, this 2-story frame wagon works was destroyed by fire. Sowerbutt rebuilt. The 1899 Sanborn map shows a 2-story wagon factory divided into rooms for woodwork, painting, a boiler room, a blacksmith shop and a "repository," a name used by wagon makers for a showroom. In 1904, the wagon shop was once again heavily damaged by fire.
In 1905-06, Sowerbutt rebuilt, but this time rather than rebuilding a conventional wagon works, he built two side-by-side reinforced concrete mill buildings that were designed not only to accommodate his wagon works on the first floor but tenant silk weavers in the upper floors. This approach no doubt made good economic sense since the tenants would guarantee additional income. Sowerbutt may also have recognized the declining demand for wagons in the early automobile age and thus realized that he needed to find other ways to generate income from the property.
Sowerbutt's choice of building with reinforced concrete is noteworthy and may be a singular instance in the history of mill construction in Paterson. In the mid-1900s, reinforced concrete was still a relatively new building material, having first been used in tentative and relatively limited fashion for structural applications in the mid-1880s to 1890s. By the early 20th century, the material's moldable qualities, strength capacity and fire retardant qualities were becoming increasingly recognized. Interestingly, Sowerbutt made no changes to the basic textile mill form but he did take advantage of the moldable qualities of the material, even making the effort to score the concrete to look like stone. It also appears from notations on Sanborn maps that Sowerbutt did not extend the use of reinforced-concrete framing to the upper stories of the mills, instead using conventional timber mill framing, perhaps not trusting the concrete's ability to support its own weight. These mills are worthy of further investigation since they represent an important usage of reinforced concrete during a formative and transitional period in the technology's development.
There is other evidence that Sowerbutt was expanding and diversifying his business opportunities in the early years of the 20th century. In 1901, he was involved in the opening of the Prospect Park Quarry in Prospect Park, N.J. Between 1901 and his death in 1916, Sowerbutt was a frequent bidder on public works contracts to grade and pave roads, including some early concrete roadbeds. It seems entirely probable that Sowerbutt's quarry business influenced his decision to build reinforced-concrete mills.
In 1915, the Sowerbutt Mill Nos. 2 and 3 housed Sowerbutt's wagon works on the 1st floor. Upper story silk mill tenants included M. B. Watson (warping and winding), Newark Silk Co. (broad silks), Prudential Silk Co. (broad silks), and McCollom & Post Co. (broad silks). Sowerbutt supplied light and power to his tenants with a steam plant at the east end of Mill No. 3 and electric generators at the east end of Mill No. 2. A 1-story coalhouse was located in the alley between the two mills. By 1931, the tenant mills were owned by Bessie S. Harper.
References
Hyde, E. B. Atlas of Passaic County, New Jersey, 1877.
Robinson, E. Atlas of the City of Paterson, New Jersey, 1884.
Robinson, E. Atlas of the City of Paterson and Haledon, New Jersey, 1899.
Mueller, A. H. Atlas of the City of Paterson, New Jersey, 1915.
Sanborn Map Company Insurance Maps of Paterson, New Jersey, 1915.
Sanborn Map Company Insurance Maps of Paterson, New Jersey, 1931.
Sanborn Map Company Insurance Maps of Paterson, New Jersey, 1889.
Tilcon "History." On-line at www.tilconny.com. 2012
Bureau of Labor and Industries of N.J., "27th Annual Report," 1904.
"Fires." The Hub, Vol. 37 (Mar. 1, 1896), p. 300, 1896.
Department of Community Development, City of Paterson Survey, 1987.
Associated Documents
J.S Sowerbutt Mill Site Form
Additional Photographs of J.S Sowerbutt Mill
Maps of J.S Sowerbutt Mill