Dental Clinic
Phone:




973-321-1277 x2745
DENTAL HEALTH PROGRAM FOR KIDS
Paterson Public Schools-Office of Dental Services Extension 2745
The Dental Clinic is part of the Paterson Public School System and provides free dental examinations and treatment for children Kindergarten through 12th grade who are residents of the City of Paterson and do not have dental insurance or Medicaid.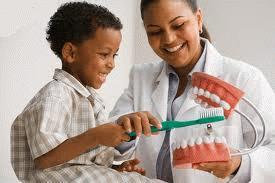 Three of the most important habits parents can encourage to increase a child's oral health are: brushing teeth twice a day, visiting the dentist every six months and wearing a mouth guard during sports.
Ensure Children Brush Twice A Day
Brushing twice a day is minimum - everyday, for both children and adults. Parents should lead by example and introduce brushing by age two to familiarize your children with brushing. To encourage school-age children to brush after every meal, allow children to pick out their own travel toothbrush and toothpaste to take to school.
Visit the Dentist Six Months After Eruption of the First Tooth
The dentist can examine the oral cavity to ensure the teeth, jaw and bite are developing properly. In addition, tooth decay is still the most common chronic childhood disease-five times as common as asthma. Tooth decay can occur at any age and left untreated can impair a child's ability to eat, speak, sleep and learn. Bi-annual check-ups throughout childhood help ward off decay preventing cavities and gum disease that may lead to serious health complications.
Make Mouth guards a Part of Sports Uniforms
Five million teeth are knocked out each year. Many of the injuries result from baseball or hockey accidents and could be prevented by wearing a mouth guard during these activities. Mouth guards help protect teeth from being knocked out, chipped or broken and can save a child from needing oral surgery to replace a tooth or implant a false tooth.
Contact Information
If you have any questions regarding this service, please contact .