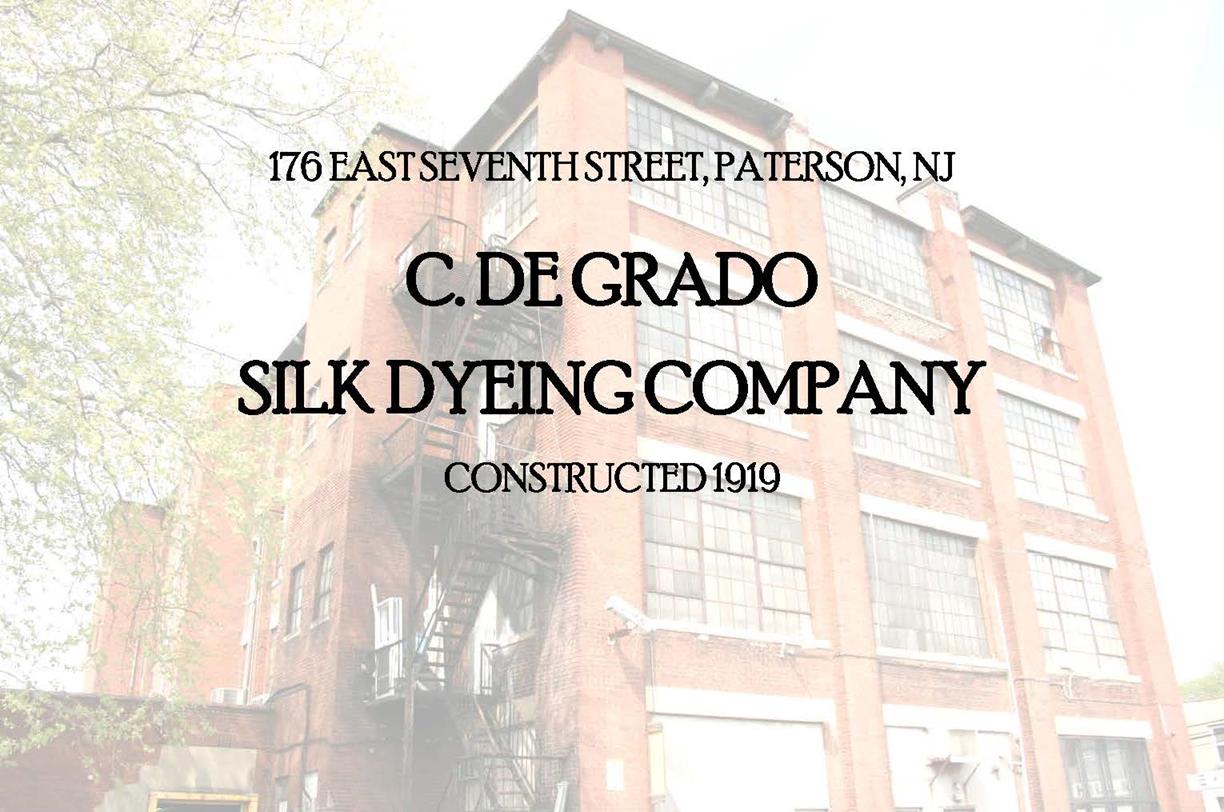 History
The C. De Grado Silk Dyeing Co. mill, built in 1919, was the final build out of a dye works that was established by Costabile De Grado in 1905. De Grado was born in Salerno, Italy in 1869 and immigrated at age 11 to New York City in 1880. At age 15, he began working in a New York City silk dye house, and in 1905 he struck out on his own to establish a dye works in Paterson. The original works was located in the now vacant lots west of the current building. The works began as a very small family dye works, employing only three men. De Grado specialized in dyeing of piece goods, hat bands, umbrella silks and ribbons employing a special "radium" fast coloring process. In 1919, De Grado constructed a new mill to the east of his original establishment. Historian Albert Heusser described the mill as "one of the finest in the city." De Grado was assisted at the new works by his five sons: Andrew, Mariano, Louis, Patrick and George. The DeGrado's lived in a dwelling, now gone, that was located immediately north of the mill on East 7th Street. The 1931 Sanborn map labeled the De Grado works as a tenant mill, suggesting that by the onset of the Great Depression space within the works was being leased rather than owner-operated.
Statement of Significance
The silk dyeing work of C. De Grado Silk Dyeing Co. was among the later entrants into Paterson's silk dyeing industry. It was one of at least 75 silk dyeing concerns that were operating in the city during the first quart of the 20th century. The story of Costabile De Grado indicates that there still existed business opportunities for small dyeing operators to build themselves up, even in the face of the increasing concentration of the business in the hands of large conglomerates like the National Silk Dyeing Company. Architecturally, the C. De Grado Silk Dyeing mill retains the classic textile mill form that had been in widespread use in Paterson and other textile centers since the early part of the 19th century, but in this case De Grado did adopt reinforced-concrete framing, which allowed for wider expanses of windows for natural lighting. This innovation, although developed in the early 1900s, was relatively slow to spread to the architecturally conservative silk industry. The mill has excellent integrity of design and materials with no major alterations.
References
Hyde, E. B. Atlas of Passaic County, New Jersey, 1877.
Robinson, E. Atlas of Paterson, New Jersey. 1884.
Robinson, E. Atlas of the City of Paterson and Haledon, New Jersey, 1899.
Mueller, A. H. Atlas of the City of Paterson, New Jersey, 1915.
Sanborn Map Co. Insurance Maps of Paterson, New Jersey, 1931.
Heusser, Albert H. The History of the Silk Dyeing Industry in the United States, 1927.