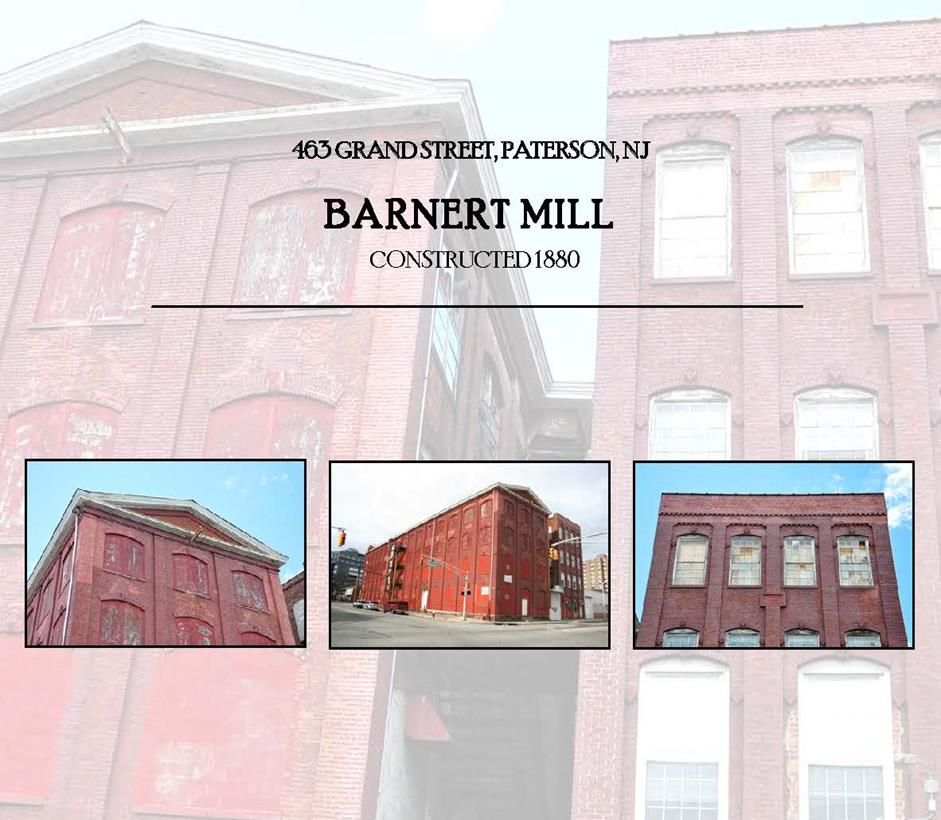 Architectural Context, Integrity & Significance
The Barnert Mill was erected between 1880 and 1882 by two-time Mayor Nathan Barnert. It is situated on the corners of Grand Street and Railroad and Dale Avenues, across the street from the Watson Machine Works, and adjacent to the site of the Dale Mill, also owned by Barnert at that time. The brick four-story mill complex is in a traditional square configuration, with a frontage on Grand Street of 200 feet and 125 feet at the rear on Dale Avenue. The approximate square footage was between 75-80,000 sq. ft. The dual façade on Railroad Avenue is articulated with segmentally arched windows with keystone ornamentation, with additional features such as colossal brick pilasters and a corbelled cornice. Its style is an example of late nineteenth-century utilitarian mill architecture, and it exhibits excellent integrity. There is a stone entablature on the façade denoting it as the Barnert Mill, 1880.

Historic significance, context & association
By its given name as that of its owner, the Barnert Mill is significant for its association with Nathan Barnert, who twice served as Mayor of Paterson in 1883-1886 and again in 1889-1890. Barnert's legacy of philanthropy and commitment to the highest values of political integrity by facing off with political graft and nepotism won him a high place of appeal and honor in Paterson's social and historic annals. So much esteemed was Barnert, that a bronze statue of him was erected in front of City Hall in 1923 prior to his death in 1927. Barnert in his later years gifted to Patersonians and specifically to the Jewish community three important edifices: a Hebrew temple for the congregation B'Nai Jeshurun, known as the Barnert Memorial Temple; Barnert Hospital, opened 1914; and the Miriam Barnert Memorial Hebrew Free School. Today only the hospital remains, while the other two have been razed.

Nathan Barnert settled in Paterson in 1858 when he established a tailoring and clothing business on Main Street in partnership with Marks Cohen. Shortly thereafter the partners secured large clothing contracts for the Union troops during the Civil War, which ended in 1865. Over the next decade he continued in the clothing business while he began a new interest in real estate development. By 1878, he retired from his mercantile pursuits to fully pursue real estate. One of his endeavors of this time was the jointly founded Annandale Screen Plate Co. that furnished supplies to the paper-making industry in Paterson. Shriner's book, Paterson Illustrated, notes that by the time Barnert was elected Mayor in 1883, he was already "the largest holder of silk mill property in the City of Paterson." It is stated that the construction of the Barnert Mill was a speculation and that it was completed in 1882. At that point he also owned the adjacent Dale Mill, a massive 1880s era tenant mill along Railroad Ave. Both the Dale Mill and the Barnert Mill occupied the entire long block between Grand and Market Streets, and Dale and Railroad Avenues. Barnert additionally constructed another mill behind the Dale Mill, fronting Dale Avenue that is extant, shown on a 1915 map as "Barnert's Greater Mill." Today it is reused as housing and for the Dale Avenue School. The Dale Mill was razed in the twentieth century, and Barnert's Greater Mill was painted tan, and has lost its integrity in its rehabilitation for school/housing reuse through an overwhelming number of permanent alterations.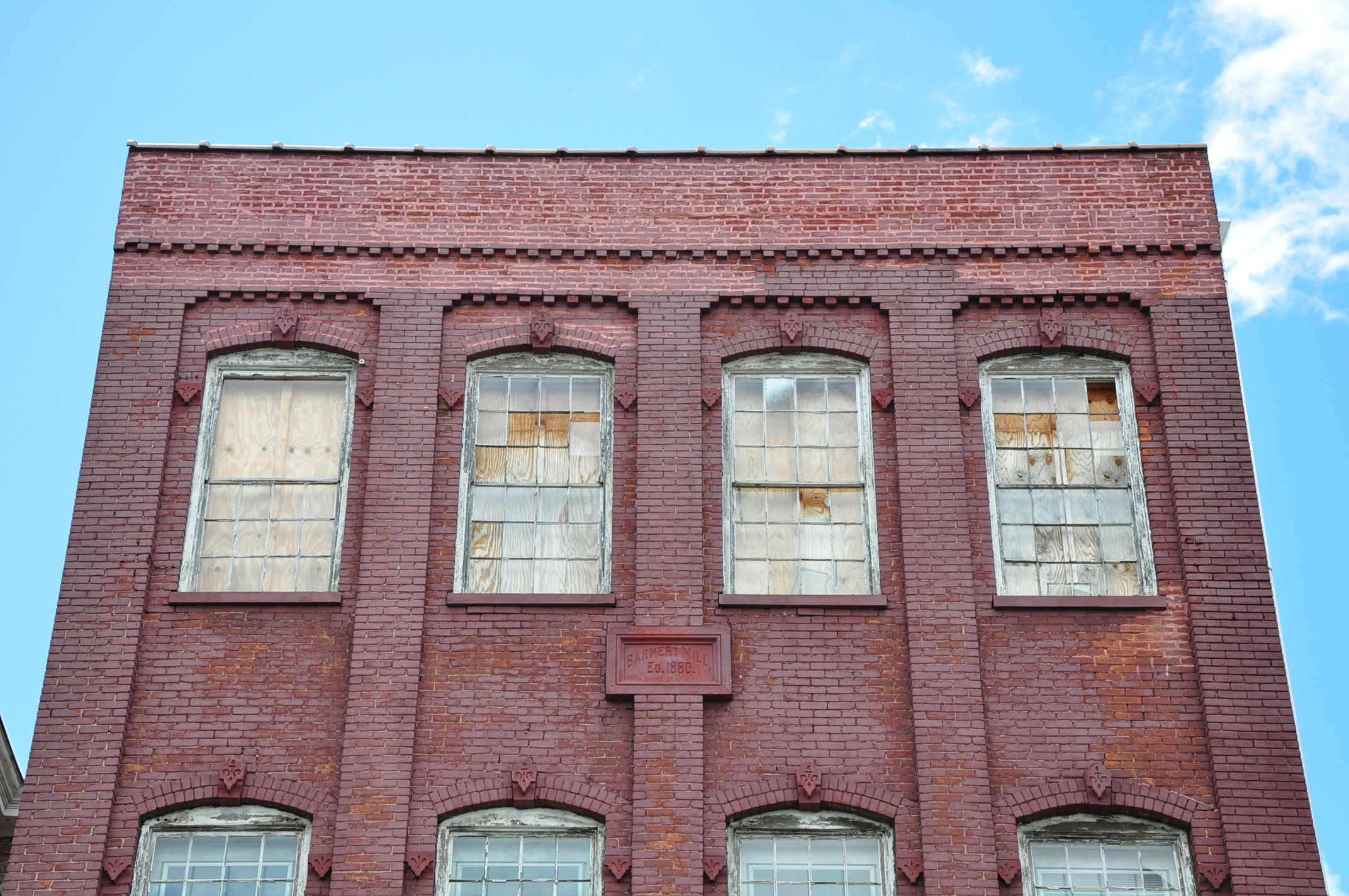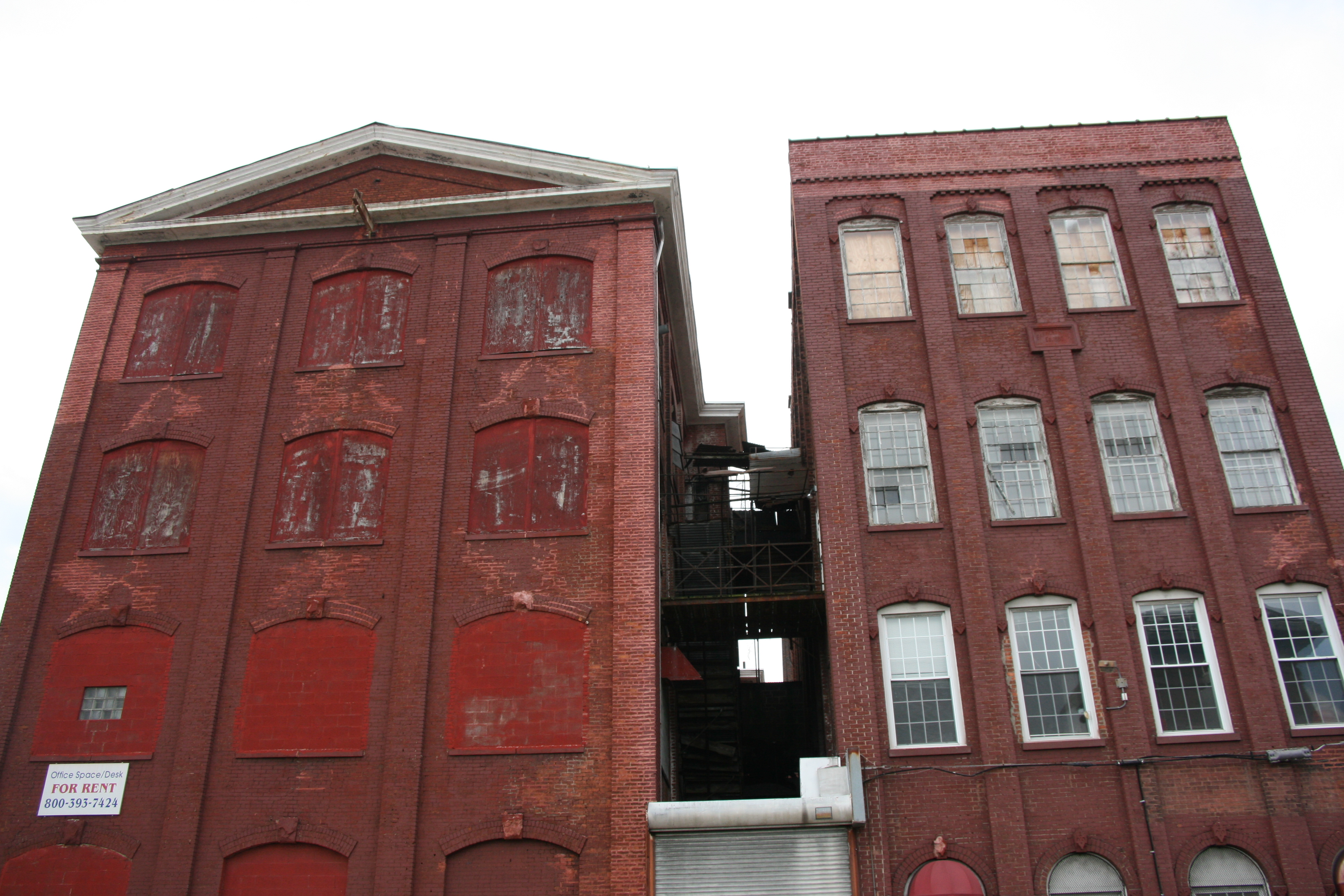 References
Sanborn Map Company, Insurance Maps of Paterson, New Jersey. [Corrected to 1950], 1915.
Sanborn Map Company Fire Insurance Maps of Paterson, N.J. 1931.
Archimede, Gianfranco, Paterson Historic Mills Group Municipal Historic Site Designation Staff Opinion of Eligibility, 2012.
Fibre and Fabric. No. 1107, Vol 43 (May 19) 1906.
Mott, Edward H. "Between the Ocean and the Lakes, The Story of Erie," 1899.
Lee, Francis L. "Genealogical and Memorial History of the State of New Jersey," 1910.
Davison Publishing Co. "Office Edition of The Blue Book Textile Directory. [Silk Manfrs.- New Jersey]," 1902.
Nelson, William "History of Paterson and Its Environs. Vol. II," 1920.
Markens, Isaac "The Hebrews in America, A Series of Historical and Biographical Sketches," 1888.
Jagerhuber, Max, Textile America. No. 17 1897.
Fairchild Publishing Co. Fairchild's National Directory and Digest. [Silks] 1920.
Lord & Nagle Co. Textile World Record. Vol. 34 1908.
Stainsby, William "The Industrial Directory of New Jersey", 1901.
Cultural Resources Survey of the City of Paterson, New Jersey City of Paterson, Dept. of Community Development, 1987.
Trumbull, L. R. "A History of Industrial Paterson," 1882.
Shriner, Charles A. "Paterson, New Jersey. Its Advantages for Manufacturing and Residence: Its Industries, Prominent Men, Banks, Schools, Churches, etc.," 1890.
The Paterson Daily and City of Paterson, N.J., Illustrations and Sketches, etc. and Weekly Guardian, 1898.
Hyde, E. B. Atlas of Passaic County, New Jersey 1877.
Robinson, E. Atlas of the City of Paterson, New Jersey, 1884.
Robinson, E Atlas of the City of Paterson and Haledon, New Jersey, 1899.
Mueller, A. H. Atlas of the City of Paterson, New Jersey, 1915.
Associated Documents
Barnert Mill Site Form
Maps of Barnert Mill
Additional Photographs of the Barnert Mill